This year's Sac-O-Suds 50 was a big success!  We had 50 riders at the start of the event, beautiful weather, and some faaaaast racing!  Results and a few pictures are posted below, and lots more pictures can be found on the OMBA Facebook photo album right here.
We couldn't do it without our wonderful sponsors.  Next time you need some gear, be sure and consider these great folks, and tell them thanks for supporting cycling: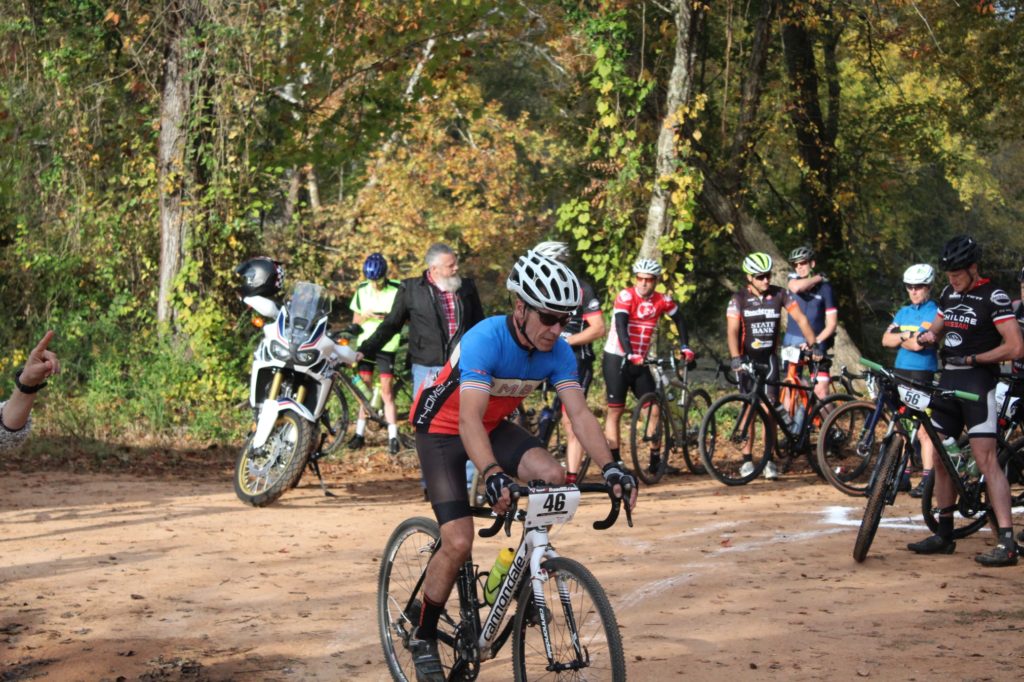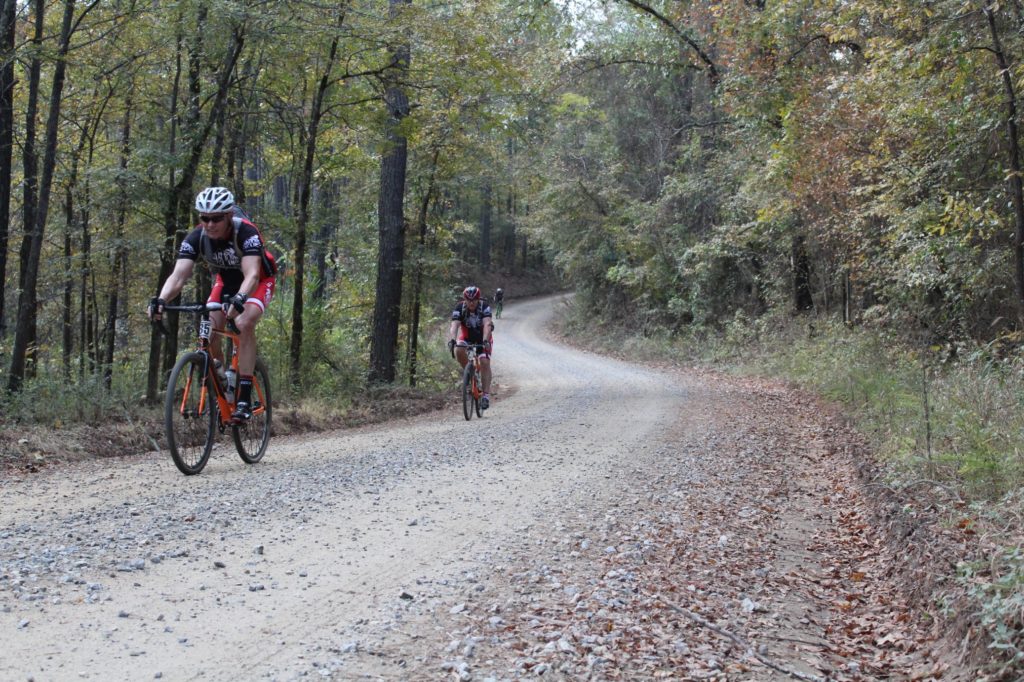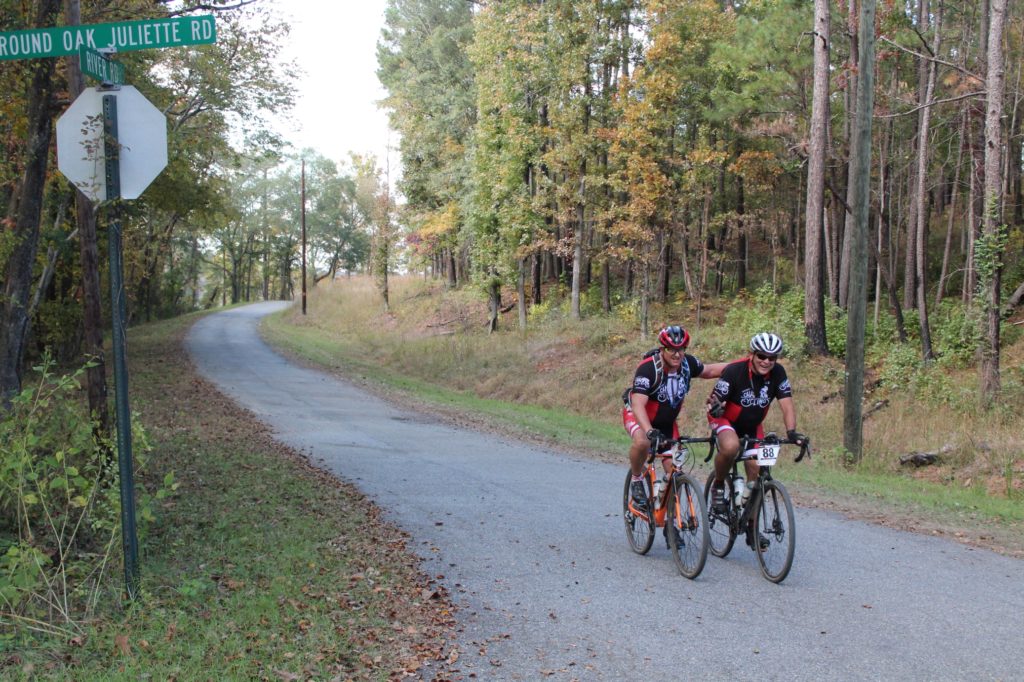 A note on results :: Just a few of the riders shown weren't actually racing, they were just riding, and some didn't ride the full route.  However, we made a mistake and didn't differentiate riders vs racers in our timing software we used to make sure everyone finished and got off the course.
2017 SAC-O-SUDS RESULTS

OVERALL RESULTS

Place
Bib
Name
Team name
Gender
Time
1
52
Sean Philyaw
LittleFire Masters p/b Adventure Cycles
M
2:42
2
94
Bruce Stauffer
Cycle Works Performance Bike Shop
M
2:46
3
72
Carlos Morejon
M
2:48
4
49
Randall Daniels
M
2:52
5
70
Bret Burleson
M
2:53
6
74
Jim Augustin
M
2:53
7
93
Eddie Ferguson
M
2:59
8
92
James Morrison
M
2:59
9
54
Jeff Clayton
Georgia Neurosurgical Institute
M
2:59
10
56
John Dove
M
3:05
11
96
Terry Jackson
M
3:08
12
90
Cody Haddock
Georgia Neurosurgical Institute
M
3:11
13
95
Van Mixon
Georgia Neurosurgical Institute
M
3:17
14
46
Monte
M
3:17
15
69
Eric Thiele
M
3:17
16
71
Billy James
M
3:19
17
91
James Thomasson
M
3:20
18
77
Bob Neurath
Team N2
M
3:22
19
50
Jack Balthasar
WhiteTail
M
3:25
20
81
Donald Newman
M
3:27
21
53
Steve Wagoner
M
3:32
22
80
Joel Price
Spinx Masters Cycling
M
3:32
23
57
Edward Hamilton
M
3:32
24
83
Kim Sepp
F
3:36
25
82
Dale Vaughan
MidGaTri
M
3:36
26
59
Humberto Fallas
Toucan Gravel Grinders
M
3:40
27
58
Shawn Ledford
Southern Crescent Cycling
M
3:40
28
76
Jeff Dorminey
M
3:46
29
78
Sue Neurath
Team N2
F
3:54
30
89
Frank Tantillo
M
4:07
31
73
Sharon Morejon
F
4:12
32
60
Pamela Randolph
F
4:13
33
75
Scott Mcarthur
M
4:13
34
48
Roger Hill
M
4:20
35
84
Lou Hablas
M
4:22
36
51
Kelly Hornsby
OMBA
M
4:47
37
55
Chris Criswell
M
5:18
38
79
Jody Criswell
M
5:18
39
88
Tim Sapp
Champion cycle
M
5:26
40
85
Jeff Tomamichel
Champion Cycling
M
5:26
41
87
Philip Foreman
Champion Cycling
M
5:26
42
86
Andre Rucker
Champion
M
5:27
43
99
Shawn Dunn
M
5:33
44
816
James Hassett
M
5:33
45
901
Mike Field
M
5:33

WOMEN

Place
Bib
Name
Team name
Gender
Time
1
83
Kim Sepp
F
3:36
2
78
Sue Neurath
Team N2
F
3:54
3
73
Sharon Morejon
F
4:12
4
60
Pamela Randolph
F
4:13

MEN

1
52
Sean Philyaw
LittleFire Masters p/b Adventure Cycles
M
2:42
2
94
Bruce Stauffer
Cycle Works Performance Bike Shop
M
2:46
3
72
Carlos Morejon
M
2:48
4
49
Randall Daniels
M
2:52
5
70
Bret Burleson
M
2:53
6
74
Jim Augustin
M
2:53
7
93
Eddie Ferguson
M
2:59
8
92
James Morrison
M
2:59
9
54
Jeff Clayton
Georgia Neurosurgical Institute
M
2:59
10
56
John Dove
M
3:05
11
96
Terry Jackson
M
3:08
12
90
Cody Haddock
Georgia Neurosurgical Institute
M
3:11
13
95
Van Mixon
Georgia Neurosurgical Institute
M
3:17
14
46
Monte
M
3:17
15
69
Eric Thiele
M
3:17
16
71
Billy James
M
3:19
17
91
James Thomasson
M
3:20
18
77
Bob Neurath
Team N2
M
3:22
19
50
Jack Balthasar
WhiteTail
M
3:25
20
81
Donald Newman
M
3:27
21
53
Steve Wagoner
M
3:32
22
80
Joel Price
Spinx Masters Cycling
M
3:32
23
57
Edward Hamilton
M
3:32
24
82
Dale Vaughan
MidGaTri
M
3:36
25
59
Humberto Fallas
Toucan Gravel Grinders
M
3:40
26
58
Shawn Ledford
Southern Crescent Cycling
M
3:40
27
76
Jeff Dorminey
M
3:46
28
89
Frank Tantillo
M
4:07
29
75
Scott Mcarthur
M
4:13
30
48
Roger Hill
M
4:20
31
84
Lou Hablas
M
4:22
32
51
Kelly Hornsby
OMBA
M
4:47
33
55
Chris Criswell
M
5:18
34
79
Jody Criswell
M
5:18
35
88
Tim Sapp
Champion cycle
M
5:26
36
85
Jeff Tomamichel
Champion Cycling
M
5:26
37
87
Philip Foreman
Champion Cycling
M
5:26
38
86
Andre Rucker
Champion
M
5:27
39
99
Shawn Dunn
M
5:33
40
816
James Hassett
M
5:33
41
901
Mike Field
M
5:33